 Office Location
3505 Medical Park Dr, Norman, OK 73072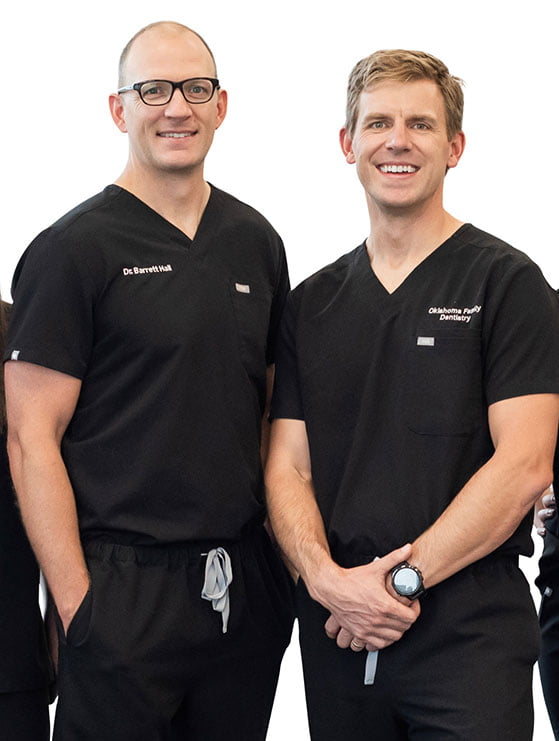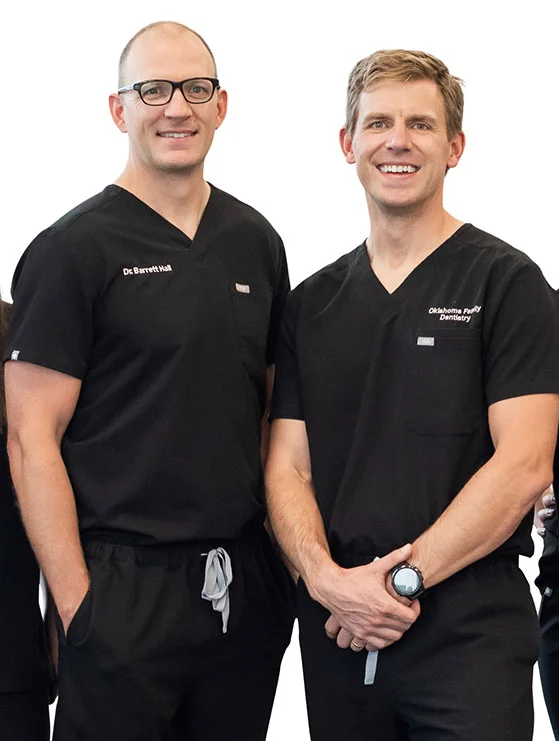 Welcome to Our Practice!
Welcome to Implant Surgery Center! We are passionate about providing excellent patient care with a focus on dental implant treatment to restore beautiful, functional smiles. With thousands of dental implant success stories, we are the trusted experts for getting people back to laughing and eating confidently again!
We are happy to help people throughout all phases of dental implant therapy. From necessary oral surgery procedures to single tooth implants or full mouth restorative cases, we strive to provide our patients with the best possible care.
A Note About Dental Implants:
Dental implants are titanium cylinders used to replace the function of a tooth root. They can be used to stabilize single teeth or several can be combined to replace multiple teeth. Dental implants began in the mid-60's and were more widespread by the late 70's and early 80's. Over the last 50-60 years many advancements have been made in dental implant technology. From the shape, size, surface coatings, thread design, and connection types to the imaging before/during/after to the way the dental implants are restored- it has all changed and is constantly changing! All of these things are important to consider when choosing how to use a dental implant to replace teeth or stabilize a dental prosthetic.
Dental Implants
Dental implants are the best way to replace individual teeth and can be used in conjunction with fixed or removable prosthetics. Dental implants are titanium posts placed in areas where teeth are missing. Dental implants allow for the attachment of crowns to replace missing teeth and can attach to prosthetics to secure them in place. Dental implants are a wonderful option because they help to preserve the integrity of the bone, allow for optimal cleansibility, and mimic a natural tooth better than any other restoration. Exciting advances in dentistry are giving patients even more options that we haven't had before.
Oral Surgery
Dental implant therapy is often accompanied with other oral surgery procedures. These procedures include but are not limited to bone grafts, sinus augmentations, extractions, preparation of alveolar ridges, etc.
Single Tooth Dental Implant
A missing tooth can be a real problem and can occur for many reasons. Trauma, infection, fracture, and even congenitally missing (a tooth someone is missing naturally) can all be reasons a person may be missing a tooth. Each scenario is very unique and has to be navigated with care. In some instances teeth can be replaced in one day and in others it may be best to replace the root (with a dental implant) and delay the restoration (or crown) placement while the dental implant integrates. Call us today to set up your initial visit and get the process of tooth replacement started!
Implant Bridges
Implant bridges are ceramic crowns or prosthetic teeth that are fused together to replace two or more missing teeth. Each dental implant bridge is highly customized to ensure the proper fit, function and esthetics. A dental implant bridge is a secure, non-removeable, natural looking option to replace multiple missing teeth. This both restores your natural smile, retains chewing function, and ensures the surrounding teeth won't shift to fill the prior gap.
Implant-Retained Partial Dentures
Used in cases where only a few teeth are missing, partial dentures restore your smile and chewing function to areas where teeth are missing. Implant-retained partials integrate seamlessly with your existing teeth while utilizing dental impant technology for optimal stability and function. This is a good way to replace several teeth.
Fixed Hybrids
This is a non-removable or permanent option to replace a whole row of teeth. Also known as an "all-on-4" or "all-on-x" solution, a fixed hybrid denture design is held in place by four or more dental implants. This option is also used to replace a whole arch (top or bottom) of teeth. This ensures a secure fit of the prosthetic so that the prosthetic doesn't slip out of place or rub sores on the gums. It provides maximum functionality and security for the patient.
Implant-Retained Dentures
A removable, but very affordable treatment option, Implant-retained dentures are used to overcome the pitfalls often associated with regular dentures: sore gums, deterioration of jaw bone, and loose fitting teeth. Dental implants are placed at strategic points in the patient's mouth that the dentures are then attached to, ensuring a snug and comfortable fit while providing all of the same benefits provided by normal dentures.
Implant & Prosthetic Maintenance
Much like natural teeth, preventive care is one of the most important procedures to maintain dental implant treatment. Dental implants and prosthetics need the same maintenance. We handle all aspects of dental implant therapy at our center, allowing you to receive full service care for your oral health.
Sedation
Our doctors are fully trained in conscious sedation to ensure our patients have a comfortable experience at our center. Though sedation is not required to receive dental implant treatment, being comfortable during treatment is one of our main objectives. Whether sedated or not, achieving local anesthesia is accomplished prior to any surgery. For some patients local anesthesia is all that is needed; for others some level of sedation is required. We offer three types of sedation: nitrous oxide (commonly referred to as "laughing gas"), conscious sedation, and by partnering with anesthesiologists we offer full or general anesthesia.
Meet Our Team
Throughout their education and practice, Dr. Barrett Hall and Dr. Daniel Morris have been unwaveringly committed to providing excellent dental care to many Oklahomans. With a combined 24 years of experience and thousands of successful dental implant surgeries and restorations, they have honed the art of tooth replacement with dental implants and the wide range of options associated with dental implants. 
A Relational approach
At the core of everything we do is a desire to provide every person who walks through our doors with the highest level of care, comfort, and expertise.  We are passionate about improving people's lives through dentistry.
Individualized treatment plan
Getting Started
Getting started is easy! Simply call our office to set up your initial consultation with our dentists, or email info@implantsurgerycenter.com.
Your first visit will focus on getting to know you, assessing your needs, addressing your concerns, and obtaining necessary diagnostic information so we can create an individualized treatment plan that you are comfortable with. This consultation also provides us a chance to answer any and all questions you may have. 
Frequently Asked Questions
How much will my dental implants cost?
Each individual's treatment plan is unique, which is why treatment plans can vary according to each patient's individual needs. If dental insurance is to be utilized, that can also affect the cost of treatment. We accept most dental insurance and also work with Care Credit if a payment plan is necessary to make the financial investment more manageable. You can call our office at any time to learn more about our services and how we can help you.
How long is the process for receiving dental implants?
Every patient's situation is different, but we do our best to reduce the timeline for everyone.  Same-day tooth replacements are possible for some patients, while others can require 3 to 6 months for the desired end result, depending on the type of oral surgery needed.
What will my first visit look like?
Your initial appointment will largely be a comprehensive consultation, with radiographic imaging or CT scans taken when necessary.  Our focus is to personalize treatment to each patient's needs, so we take time up front to ensure all factors are examined and considered.
Do you offer any kind of sedation?
Absolutely! Our dentists are trained and highly experienced in Oral Conscious Sedation and nitrous oxide. If those options are not quite enough to keep you comfortable, we work with an anesthesiologist in our office that can administer IV sedation. All of these options can be discussed during your consultation.
"I came to Dr. Hall because I had an ill-fitting partial denture. I was really ashamed of my appearance and my smile. My first visit to the clinic I came in tears, and Dr. Hall reassured me that everything was going to be ok and that they were going to be able to help me. Now I just feel beautiful! "
April W. Working Hours
Monday and Wednesday: 8:00am - 4:00pm
Tuesday and Thursday: 8:00am - 3:00pm
Friday: 8:00am-2:00pm